Choose from over
50

original knitting patterns for babies and toddlers in Aran, double knit (DK) and chunky wool by Scottish knitting designer Donna Anderson. She has spent over 40 years crafting bespoke handmade baby wear; part of a family tradition.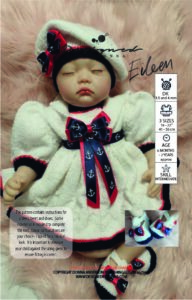 The first pattern of the year has been released! Eileen is a beautiful dress, beret and bootee combination that can be downloaded or ordered to be printed and posted now!
The pattern has been designed in the new format and contains instructions for 3 sizes!
The SteveyJ pattern which was launched on Friday 18th December 2020 to raise funds for the International Orphanage Development Programme (IODP) and a prize draw organised via the Facebook page – an online knitting community followed by over 3500 people. I have doubled the prize draw total raised and added pattern sales to raise an amazing £1022 which is being sent directly to theo IODP! Every year a team of volunteers go to Belarus to bring Christmas to the children of the orphanages – giving them their only gift of the year, many of the children were impacted by the terrible events of Chernobyl. Thank you all for your generosity and congratulations to the competition winners – a total of 18 patterns were given away (and one designed!) for this cause!

Donna Anderson is a Scottish knitting designer, who has spent over 40 years crafting bespoke handmade baby wear; part of a family tradition. This website (launched in June 2020) tells the stories and inspiration behind each creation! Patterns are available either to download instantly in PDF form or have printed and posted to you (UK only) – I hope you enjoy knitting the patterns as much as I enjoyed designing them!
January 2021 Update

Hi everyone!
The FREE draw for the yarn took place on Christmas Day and the lucky winners were:


£100

of yarn – Linda Carnie


£50

of yarn – Viv Weir


£25

of yarn – Lily Tennent
Well done ladies!
The new button designs have arrived and are now on sale – they are so cute and proving a smash with customers.
There's a monthly knitting competition on my Facebook page and I'd love for you to get involved – it runs every month and the winner receives 3 patterns of their choice. There are also several runner up prizes! For December we gave out additional prizes and the winners were:
1st Prize

(5 patterns) Catherine Hegarty – Crosshaven


2nd Prize

(4 patterns) Sheila Sidwell – Letterkenny


3rd Prize

(3 patterns) Nicola McDonald- Dylan


4th Prize

(2 patterns) Mary McGhee – Donegal


5th Prize

(1 pattern) Janice Tizard – PJs Pattern
All my patterns are available for Instant Download or to have Printed & Posted now!
Subscribers to my newsletter and members of the Facebook group – a flourishing community of keen and helpful knitters, now with over 2000 members, are always the first to hear about the newest releases so sign up to join them! I also feature giveaways and short promotions so really worthwhile joining.
Lots of the patterns have been reviewed by customers and I would encourage you to read the reviews before purchasing and PLEASE leave one afterwards! It's great to see how people found the patterns and have some reassurance before purchase.
I have finally set up an Instagram page, follow me if you use it! I love connecting with other knitters! I've been updating this regularly and still learning!
For embellishments and lace, I recommend Allison; she has a huge selection of haberdashery available through her Facebook page. Or you can email her by clicking here…
If you were one of the thousands (yes, thousands!) that have used the website to order patterns during 2020 thank you so much! I hope you find everything simple and easy to use – we take steps every day to improve the designs, website and service provided. Most of the best ideas come from customers – I appreciate your feedback and ideas and would encourage you to email me with them!
Donna xx
P.S – just in case you've never ordered before; here's a guide!

Simply browse through my range of patterns here and once you've found the pattern(s) you want, select the delivery type – there's two options; instant download (a PDF digital copy) or if you'd like the pattern printed and posted to you. The pattern is printed, put in a protective sleeve and posted in a hard-backed envelope 1st Class delivery (UK only).
There is a flat rate shipping fee of £2.95 no matter how many patterns you order – so order a few and take full advantage on my bulk shipping deal!
Once you're happy with your patterns – click "checkout". You'll be asked for your name, email and address and payment details. Once complete, if you opted for:
Instant download – you will instantly be sent an email with a link to download the pattern(s) and you can save the file to your computer and print off a single time.
***Please check your spam/junk mail if it is your first order.
Printed and Posted – your pattern will be printed and dispatched to you within 48 hours of your order being placed. You should expect to receive your pattern within 3-5 working days from ordering, however, there are national delays affecting all post due to restrictions – so please be patient and allow at least 7 days before contacting us. There has only ever been a few instances where we've had to resend patterns, so don't panic!