Description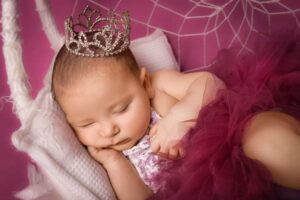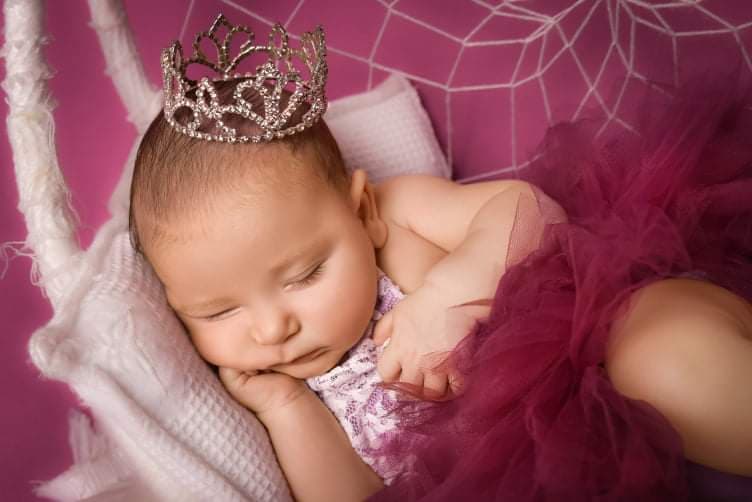 About 'Keida'
I lived with Janet in Carrigaline, Co Cork in the early 80's and we had such adventures, usually on pub crawls round Cork!  We are friends to this day and Keida is her latest grandchild – her name means Water Princess.  I wanted to do something really different and pretty so this is my first design of the Ribbon and Lace Collection.
The beautiful Keida is pictured on the right.
Size Guide:  The pattern for a Angel Top, Pants and Shoes and has instructions to fit 16″, 18″, 20″ and 22″ chest, approx age 0-2 years.
Allison supplies all the lace and embellishments that I use on this and all my other patterns.  She has a huge selection of haberdashery, you can email her to discuss your requirements by clicking here.  Alternatively, you can visit her Facebook page here. 
Wool & yarn recommendation…
I often get asked which wool I use and who my yarn supplier is!  For this knit I have used Stylecraft Special DK which I selected for its softness, it is very gentle on a baby's skin.  There are over 88 different shades available through LoveCrafts, who are my preferred yarn and wool supplier.  (Spend over £25 to get free P&P and sign up their newsletter for 15% off your first order!)… I would also recommend Paintbox DK for this pattern.